LINK SAVVY: Resources to empower young people and support their mental health
A challenge we can all face when needing help with our health is knowing what options are out there and how to access them.
This is especially true of mental health, as the range of services, organisations and support available, whilst far-reaching and varied, makes knowing where to look for support a challenge.
Kathryn McHarg set out to tackle this when she joined Jesmond Lower Gosforth Primary Care Network as a Care Coordinator in late 2019.
Developing Link Savvy
The aim, initially, was to uncover all the mental health support and resources available to young people and to make this information accessible to young people within the Jesmond Lower Gosforth network.
The target group was 18-25-year-olds with or at risk of developing low to moderate mental health issues.
During this scoping stage, Kathryn called on her wide-ranging experience.
As a marketing and research specialist and having worked in the NHS as a Communications Manager, Kathryn was able to apply this knowledge and experience to engage and connect with many services and organisations locally.
Additionally, skilled in working with young people as a Primary School teacher and qualified teen yoga coach, she had a strong sense of what young people needed and the format in which they may prefer this information.
Now, in late 2022, LINK SAVVY has been updated and amended to reflect the available links, services and organisations offering help and support to and for young people.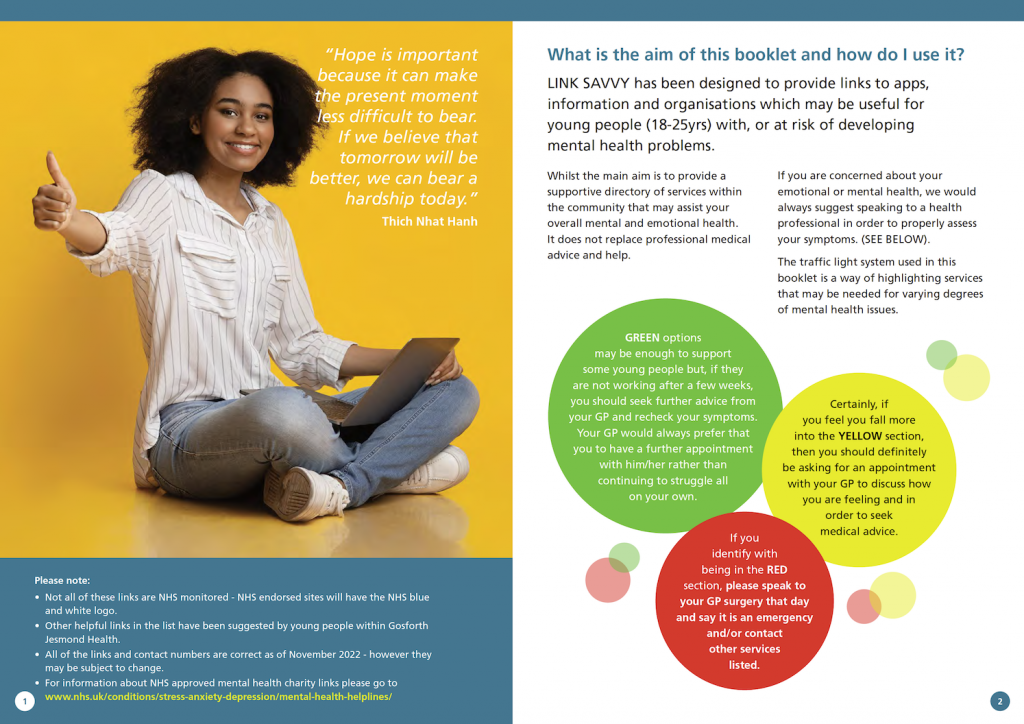 Using LINK SAVVY
Link Savvy is available as a hard copy booklet in all GP practices in Jesmond Lower Gosforth and now also in North Gosforth.
An electronic version of the booklet has also been built into all practice websites in the Resources section, where it can be viewed, downloaded, or printed.
It uses a simple but powerful traffic light system to highlight online and local services that may be appropriate for varying degrees of mental health issues. Here's how it works:
Green = Low
'I want to help myself'
Yellow = Medium
'I think I need a little more help'
Red = High
'I am feeling desperate and need help now'
The booklet also contains information on what might cause mental health issues for young people. For example, it can be changes like moving schools, taking exams, leaving home, starting university or college, starting a job, or dealing with relationships or difficulties at home. It also reassures young people that anxiety is a normal physical response but that continued anxiety and or the addition of other mental health issues may require support.
There is also some practical advice about getting ready to speak to GPs about mental health issues and links on preparing for such an appointment. Additionally, what to do if patients have moved away from home and aren't near their usual GP practice.
In-Person Support for Young People
In her role, Kathryn works with young people with low to moderate mental health issues who have been referred to her for support by their GPs.
A GP talks to the patient first and explains that Kathryn offers non-clinical support to help them with their mental health.
If people are happy to be referred, Kathryn will get in touch and arrange an initial appointment, usually over the phone.
During the first session, Kathryn will listen and work with each patient to discuss options that might help them.
This could be a referral to talking therapies, connecting with an art or creative class, or accessing more specialist services like bereavement support.
The service differs from person to person, depending on their needs. Still, the aim is to empower young people to support themselves whilst dealing with low to moderate mental health issues.
Similarly, the number of follow-up appointments is flexible and based on the individual patient's needs.
Patients can opt-out of the service at any time and are encouraged to keep in contact with their GP for medical reviews whilst engaging with the service.
What Patients Say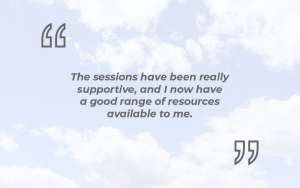 Finding out more
LINK SAVVY is available for anyone to use online or by picking up a copy in practice.
The 'green' options in the booklet are self-help routes that can be explored. Patients can contact the organisations and follow up on the links themselves.
If patients feel they may benefit from a referral to this service – the first step is a consultation with GP, and then a discussion about being referred.